You are about to meet Huggy Bear.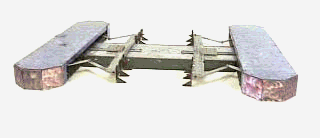 Just be glad you aren't meeting him
IN THE BATTLEBOX!

Coming in April 2009 -
Huggy's big sister: "Hugs and Kisses"


Who:
A small group of enthusiastic BattleBots competitors.

Where:
San Diego, CA

What:
1) Huggy Bear, the middleweight BattleBot and his big sister, Hugs and Kisses.

2) Famous "Hugg This" T-shirts.

3) COMING SOMEDAY: Links to other builders and help bulding your own BattleBot.

Why:
Nuts.
Its all about Nuts.